Reading Time:
5
minutes
Disappointment in canceled vacations, celebrations, and get-togethers has reigned supreme in 2020 and 2021. Many have been moved from one year to the next and sometimes a second time! There are many pieces and parts to consider when planning a bucket-list vacation or perhaps a celebratory vacation like a wedding anniversary or a honeymoon. To compensate for our collective disappointment in postponed holidays and celebrations, we might need to book ourselves on a bucket list vacation to a more exotic locale.
Excitingly, Sri Lanka reopened to international tourism in January 2021. This exotic destination has an authenticity that is captivating. With miles of golden beaches, astonishing wildlife, and a host of intimate boutique hotels, a romantic celebratory vacation in Sri Lanka will be full of memories that will last a lifetime.
Remember, the spectacular tropical paradise of the Maldives is just a short 1-hour plane ride away, making a two-destination enchanting adventure possible for your clients.
Here are many reasons why Sri Lanka should be on your bucket list!
Sri Lanka's History and Heritage
Sri Lanka is steeped in extraordinary history and charm, with historic ruins, restored temples, and crumbling ancient cities. For the ultimate cultural immersion, most will head to the Cultural Triangle to visit Sigiriya, the Dambulla Cave Temples, and the ancient cities of Anuradhapura and Polonnaruwa. 
In the central highlands, you can learn more about the island's unique tea heritage. When staying at Ceylon Tea Trails, a collection of restored tea planters' bungalows, you can opt for a private tour of the Dunkeld Tea Factory. While there,  learn more about the journey of tea from leaf to cup and the story of the family behind Dilmah Tea. This family pioneered the concept of single-origin Sri Lankan tea back in the 1980s.
A visit to Sri Lanka isn't complete without seeing the ancient city of Galle Fort on the southern coast. Galle Fort was built by the Portuguese in 1541 and fortified by the Dutch in the 17th Century. As the largest remaining fortress in Asia built by European occupiers, Galle Fort is quite impressive. Today it is home to beautiful gemstone boutiques, quirky cafes, and cozy guesthouses.  And it is just a 30-minute drive from Resplendent Ceylon's Cape Weligama.
Food, Glorious Sri Lankan Food!
A visit to Sri Lanka is a feast for all the senses, especially the taste buds. A rich melting pot of cultures and influences means their dishes are packed with colorful spices and bursting with flavor. For a truly unique experience, Cape Weligama's head chef will take you to a local fish market to learn more about the traditional fishing culture. Then you will return to the hotel with the catch of the day for a cooking class and to recreate the magical flavors of your vacation.
One of the other culinary delights is their private floating breakfast, so it is considered one of the best romantic resorts with private pools. Cape Weligama also offers in-villa dining, a popular option for all guests.
Unique Wildlife Experiences in Sri Lanka
There is no shortage of fantastic wildlife experiences in Sri Lanka. You have the Uda Walawe National Park and the Yala National Park in the southeast. In these parks, elusive leopards and sloth bears reside alongside elephants and a kaleidoscopic array of birdlife.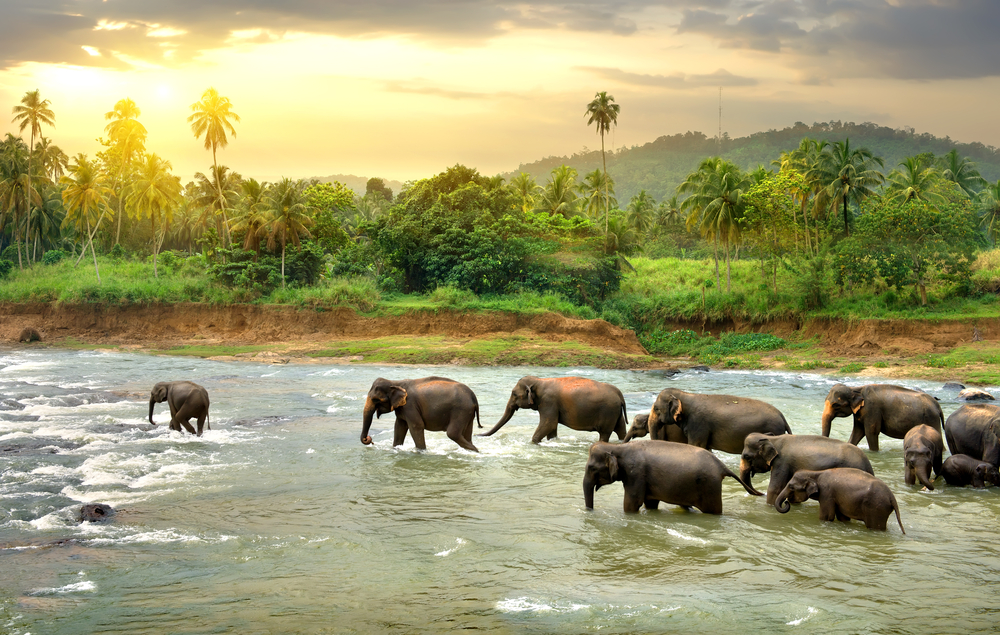 Guests at Resplendent Ceylon's Wild Coast Tented Lodge are sure to get an up-close and personal wildlife encounter in Yala, with friendly elephants.  Wild boars often roam through the lodge to say hello. Heading north, marvel at superb birdlife at the Horton Plains National Park or the Wilpattu National Park, Sri Lanka's largest national park.
Down in the South at Mirissa and Weligama is where you will spot Sri Lanka's other famed inhabitant,  the Blue Whale. For an unforgettable adventure, you can head out on Cape Weligama's private catamaran for a morning on the ocean. Between November and April, you can see the Blue Whales and pods of Dolphins.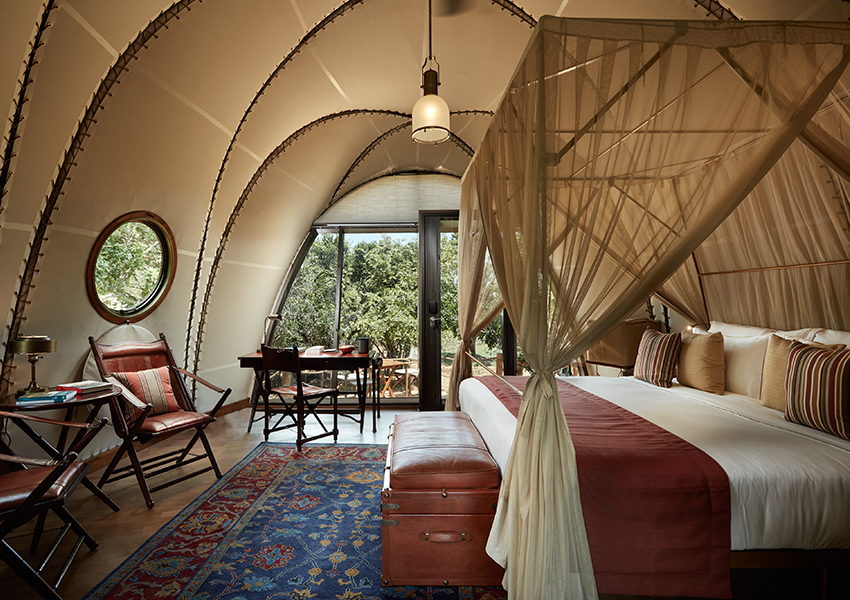 Cocoon at Wild Coast Tented Lodge
Sri Lankan Pristine Beaches
Sri Lanka has a coastline fringed with some of the most pristine beaches in the world. Beautiful stretches of golden sand and swaying trees abound. The south coast is where you will find some of the island's most popular beaches like Mirissa, Dikwella, and Weligama. These beaches are renowned for their surf and whale watching excursions.
Weligama offers the widest variety of surf breaks, so great for beginners and seasoned surfers. Cape Weligama is the place to make the most of these legendary waves.
On the east coast near Trincomalee and Batticaloa, the beaches of Uppuveli are a little more off-the-beaten-path. They offer the perfect opportunity for secluded sunset strolls.
Epic Views from the Top of Sri Lanka
There are some incredible hiking opportunities from Adam's Peak to Pidurangala, which offer breathtaking panoramic vistas. Take the views to the next level, by exploring the country on a seaplane for an epic viewpoint. A favorite is a journey from the hill country to the South. Watch the landscape change from rolling hills to jungle to open plains within a few minutes. Keep an eye out for elephants or other wildlife along the way.
The epic views needn't stop there. Have a night under the stars in a private jacuzzi at Ceylon Tea Trails overlooking the sparkling Castlereagh Lake. Take a sunrise dip in the renowned crescent moon pool at Cape Weligama. While you are there watch as the waves crash into the rugged cliffs below.
Are you ready for a change of scenery? I would love to create a spectacular bucket-list romantic vacation for you. Let's discuss how I can create the best vacation for you. Click here to set up some time!
This article is in collaboration with Rebecca Recommends and their recent Travel Notebook