Reading Time:
5
minutes
One must wonder why Prague is synonymous with "City of A Hundred Spires"; this is because of the church's many gold-tipped towers and medieval spires that peak through its skyline. 
Centuries of a rich history combined with contemporary culture make Prague a magical destination for any traveler.
The Orloj – Astronomical Clock
On the southern wing of the Old Town Hall, a Gothic tower holds a bay chapel and a unique astronomical clock. 
The Orloj (astronomical clock) displays every hour between 9 am and 11 pm, and the twelve apostles appear. 
The Towers of Prague
Marvel the magic of Prague from a bird's-eye view! Spice up your stroll through Prague by going up any of the towers that Prague City Tourism now manages. Each building offers exceptional sights of the history, a fantastic mosaic of the roofs, and the bridges and barriers of the Vltava River waterfront. 
Lesser Town Bridge Towers in Prague
Get a stunning sight of the Vltava River. The smaller tower is Romanesque, while the taller one is late Gothic based on the architecture of Parléř's Old Town Bridge Tower.
This building resembles a small castle but within is a labyrinth of mysterious stone hallways. Find yourself in the "hall of laughter." Twisted mirrors will change your appearance in a lot of crazy ways!
Old Town Bridge Tower in Prague
One of the most stunning gateways in the world. This symbol of victory through which Czech kings passed on their coronation processions. 
Old Town Hall Tower – Prague
Get a glimpse of the Týn Cathedral or Saint Nicolas Church. Marvel at the Prague Castle in the distance or be astonished by the multitude of towers, spires, and domes in Prague's diverse architecture. The Town Hall tower is the only medieval tower in Prague to be completely wheelchair accessible.
Inspired by the Eiffel Tower, this is one of the most famous landmarks of Prague. The view from its peak overlooks the whole city and all of Bohemia on a clear day.
This is one of the most notable monuments of Late Gothic Prague. This served as a gunpowder store and is still the starting point for the Coronation or Royal Route to Prague Castle.
The high viewing gallery of this tower allows you to see the Baroque Church of St. Nicholas. 
This tower supplied water to the lower New Town of Prague and served its original purpose until 1877. This tower houses an exhibition about Prague's fires in the past and a history of Prague's firefighters.
A Toast To Prague
A toast to beer gardens in Prague! Pour yourself some of the Czech Republic's finest.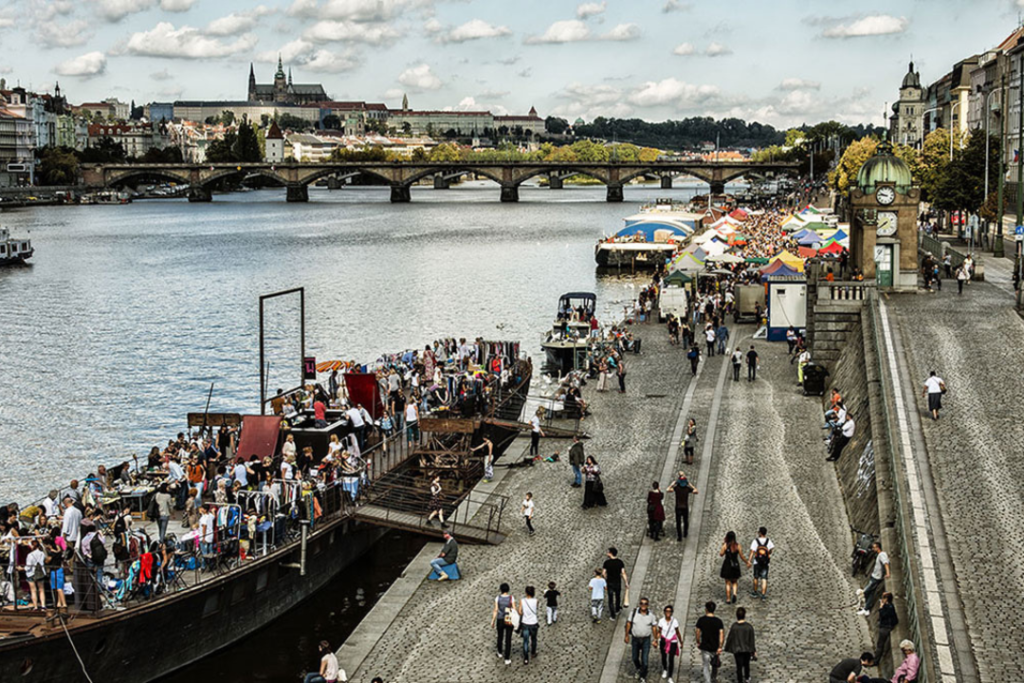 Barge crawl – Floating beer gardens are a popular attraction along Prague's Náplavka riverbank by Prague City Tourism.
Riegrovy Sady Beer Garden
One of Prague's largest beer gardens welcomes up to 1,000 people and shows sports on large screens. Tip: If it's too packed, head to the smaller garden, Mlíkárna, about 250 yards away, next to a sloping lawn with the city's best sunset views.
Far more tranquil nowadays, the park claims the most attention for its leafy beer garden with sweeping city panoramas.
No one debates the view from the beer garden up top, which overlooks Old Town's towers, steeples, and terracotta roofs and serves nine rotating microbrews (many local) such as Cvikov, Matuška, and Nová Sladovna.
Head here to sample ten varieties of Saint Norbert beer at long tables in the brewery courtyard.
Prague's secondary hilltop castle, Vyšehrad, anchors the south end of the Vltava River. The rampart's panoramic views of Prague are best savored with a cold beer at the beer garden atop the easternmost bastion.
 An eclectic nightly schedule brings everything from dance and yoga classes to album release parties, movie screenings, and live music, which, together with taps from Czech microbrewers Polička and Únětická, keep everyone on their toes.
By late afternoon it transforms into the city's largest unofficial beer garden, where locals relax with craft brews at several kiosks with small patios along the route or on one of the floating beer boats moored to the bank.
Your Home in Prague – Augustine Hotel
Discover a secret treasure, still active Augustinian monastery, a part of the Augustine, a Luxury Collection Hotel, Prague, which for many years has kept the stories of Augustinian monks alive to preserve their history dated back to the 14th century. Staying in Augustine Hotel is an experience in itself. One of the unique highlights of the property is a former astrological Tower which currently houses one of the Signature Suites at the hotel. Its 360° view of Prague is truly unforgettable…
The hotel has private access to the monastery through the Garden of Eden and its arcades. On Tuesdays or Thursdays, a private monk-guided tour of the sanctuary, church, and historical library, is a one-of-a-kind experience to learn about the intricacies of monastic life.
It is a double vaulted ceiling with carefully restored baroque frescoes that make the bar a place with an incomparable atmosphere. With Angel cocktails, signature St. Thomas beer, which was brewed on property in the 14th century by monks, and attentive service, The Refectory bar is a fabulous evening venue in Prague.
Book this hotel through Inspired Travel Designs and enjoy these special privileges by Virtuoso. Augustine, a Luxury Collection Hotel Prague, is a safe oasis in the city's heart – the perfect place to escape the world.
Upgrade on arrival, subject to availability

Full breakfast daily for two guests per bedroom in the restaurant

$100USD equivalent Food & Beverage credit utilized during stay (not combinable, not valid on room rate, no cash value if not redeemed in full)

For Deluxe Suite bookings and above:

Complimentary round-trip airport transfers

Early check-in/late check-out, subject to availability

Complimentary Wi-Fi
What does an Inspired Vacation look like?  From luxurious hotels to VIP access, exclusivity, privacy, and seclusion – I will gladly help you with all. How about we schedule a consultation and chat? I cannot wait for you to have that immersive, inspired, and extraordinary experience. 
Produced by Inspired Travel Designs with Virtuoso Travel