Reading Time:
5
minutes
St. Maarten was discovered by Christopher Columbus on November 11, 1493, the holy day of St. Martin of Tours. Therefore it was easy to name the island, St. Martin. For the next 150 years, Holland, France, England, and Spain competed for ownership. Finally, in 1648 St. Maarten was peacefully divided between France and Holland and is the smallest landmass in the world to be shared by two sovereign nations. 
At 37 square miles, the island is 61% French (St. Martin) and 39% Dutch (St. Maarten) but is known to have over 90 nationalities living and contributing to this diverse culture. English is spoken by most, but you will also hear Spanish, Creole, French, and Dutch. Truly this island is the melting pot of the Caribbean.
Dutch St. Maarten
The Dutch side of the island has more activity with large resorts, wide boardwalks, beach bars, nightclubs, and casinos. Cruise ships dock in Philipsburg, where you can stroll down the main street featuring colonial-style buildings. If you want a taste of Las Vegas with the Caribbean tradewinds, St. Maarten is the place! Casinos are located on the Dutch side. I know I prefer the tradewinds of the Caribbean over the desert heat! 
Much of the 18th and 19th-century architecture remains in Philipsburg, founded in 1793. You will find these buildings along the Great Bay Waterfront. The main street features colonial-style buildings where you can buy local treats such as Guavaberry liquor and rum! The Guavaberry Emporium is a fine example of a historic 18th-century building. Don't miss the Old Courthouse, originally built in 1793 for John Philips, a Scottish captain in the town's Dutch navy and founding father.
Duty-Free Shopping
The best duty-free shopping in the Caribbean, much of it is in Philipsburg, is on the island. When I cruised there in 2019, one of my shipmates had researched and knew which store she would buy a piece of jewelry. The Dutch side of the island has some of the most exciting international restaurants.  
French St. Martin
Considered the France of the tropics, the St. Martin side of the island is quieter and more secluded. In addition to the beautiful beaches, the towns of Marigot and Grand Case have the best cuisine in the Caribbean. Marigot's attractive waterfront showcases boutiques, shops, and restaurants showcasing French cuisine. I remember having an exquisite lunch in Grand Case overlooking the crystal clear water. Considered a culinary training ground for Michelin star chefs, the cuisine of St. Martin is extraordinary.
With over 350 restaurants, fine dining abounds. But don't forget the local food. On my tour, we stopped at The Gut Side Bar & Restaurant. Here, we ate well, and everything was delicious local food, including the homemade coconut rum! The friendly hospitality was top-notch. Look how proud our chef and host Richard is of his restaurant.
Beaches of St. Maarten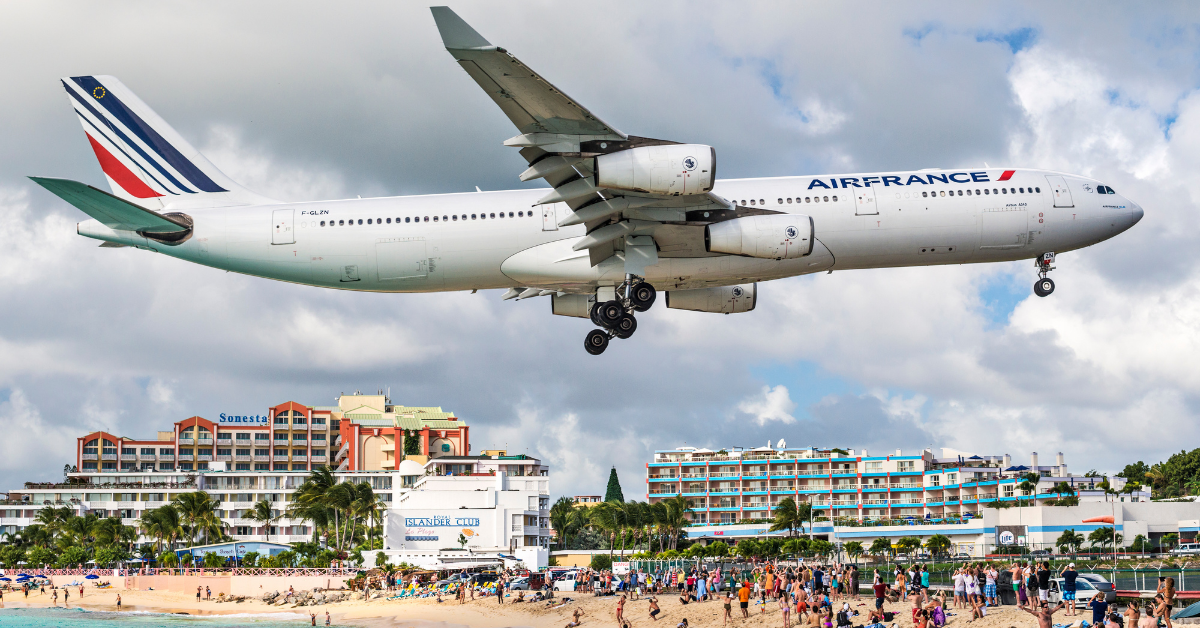 There's a beach for everyone's taste. The most unique would be Maho Bay beach, where aviation geeks can stand under the flight path while the planes are landing. This takes plane spotting to a whole new level.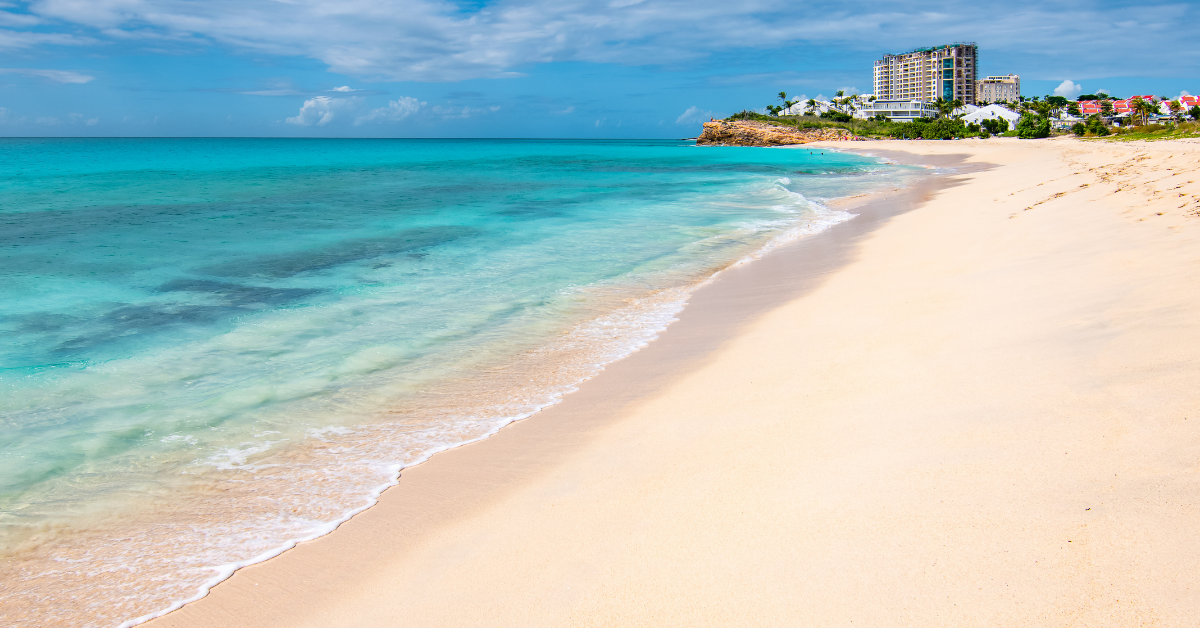 The mile-long Mullet Bay beach is famous for its beauty and space. Little Bay beach is renowned for snorkeling. Guana Bay's winds make it the best choice for kite and windsurfers. Day boat tours seek out secret beaches that you can only get to by boat. Some of these beaches are on the nearby small islands of Pinel and Tintamarre.
St. Maarten for Land Lovers
The natural beauty of this island is impressive. From the top of Pic Paradis, the highest point on the island, to the lush forestation to the 37 beaches, breathtaking views abound. Loterie Farm Nature Reserve and Sanctuary, located partway up to Pic Paradis, offers hiking (guided too), ziplines, pool cabana rental, and delicious food. Hike up to Fort St. Louis from Marigot, and on a clear day, you can see Anguilla.
For land lovers, golfing and mountain biking are excellent choices. You can rent an ATV, get kissed by butterflies at the butterfly farm. There are several locations for horseback riding, and you can see hundreds of species of birds at Parrot Ville Bird Park.
Watersports Surround St. Maarten
Watersports fans will love St. Maarten. You name the watersport, and it is here. From deep-sea fishing, jet skiing, flyboarding, snorkeling, scuba-diving, parasailing, kite, and wind-boarding to sailing and motor yacht adventures, you will never run out of things to do on the water. For 40 years, St. Maarten has hosted the Heineken Regatta, an annual event in early March. If that doesn't fit your schedule, with 12-Metre Regatta, you can sail in a competitive head-to-head race between authentic America's Cup race yachts. What an exhilarating experience!
Best Places to Stay on St. Maarten
Without a doubt, La Samana, a Belmond Hotel is the best place to stay on the island. Considered one of the top 10 resorts in the Caribbean, this 5-star property is renowned. With 55-acres scattered along Long Beach, this resort has private ocean view terrace rooms leaving you relaxed and giving you a bit of seclusion. There are plenty of activities from private yacht charters, kayaking, snorkeling, yoga, and pilates if you are game. A resident pro staffs the tennis center, and there is a fitness center to work off all the delectable food.
One of the best ways to see all the beaches, go island hopping, and have dinner in many locales is to rent a power or sailing yacht for your entire stay. Think of it as your floating boutique hotel. You can sail yourself or hire a local skipper and gourmet chef to tend to your every wish. Waking up at a different beach and dining in another town would be delightful. 
Want to take the whole family? Renting a beautiful villa is an option. These villas come with a stocked kitchen or optional private chefs and spa treatments. The views are amazing, and what an incredible way to bond with the family.
 Need help sorting out the needs for your travel? Just schedule a consultation here. I will do all the work for you, so have nothing to do but enjoy your vacation.